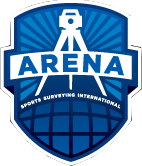 ARENA SPORTS SURVEYING
Arena Sports Survey International has developed a product offering providing professional surveying services for sports stadiums, arenas and a full range of sports that require measurement and accuracy. Utilising the latest high speed 3D laser scanning technology and systems to acquire, measure and validate sports data, Arena will ensure your sport or event achieves the exacting standards of your federation, board or authority.


High speed 3D laser scanning technology digitally records 900,000 points of data per second. Laser scanning can survey the surfaces of complex buildings & surfaces to create a digital model of geometric points.
The scans generate a point cloud of data that can be used for:
Survey Accurate Visualisation of Event Configurations for Event Management and Presentation
Fly-Through Videos of Buildings, Stadiums and Venues
Certify Venues to Meet International Standards to Host International events
Broadcaster Camera Positioning
As an Asset Management Tool for venue operators; and
Event Ticketing and Advertising
The deliverables provide venue managers access to data to recreate configurations to assist planning and venue transformation for multiple sports and major events held at a single venue or stadium. The same data provides accurate dimensions that can be used by broadcasters for presentation of graphics and visualisation of the venue for digital advertising.
Arena Sports Survey International are experts in the confirmation and marking of playing field dimensions and alignment for venues ranging from international stadiums to local clubs & schools. Our surveyors will confirm the exact dimensions of the playing field for your specific sport and mark the field to ensure the ground staff can deliver a fully compliant venue to the appropriate regulation or standard.

Visit Arena Sports Surveying International for the latest development in sports arena surveying, venue certification and event presentation.

SIGN UP TO OUR EMAIL LIST