UNSW PLANNING AWARD 2016

TOWN PLANNER WINS MULTIPLE UNSW AWARDS - Released: 4 May 2016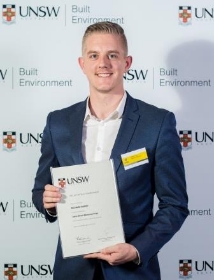 Craig & Rhodes Town Planner, Richard Barry is celebrating after his Year 5 thesis was recognised with three awards at the 2016 UNSW Faculty of Built Environment Awards. Completing his Bachelor of Planning in 2015, Richard won three prizes for his Year 5 thesis, The Virtual City – Immersive Participation using VR (Virtual Reality) Headsets.
* John Shaw Memorial Prize for best Year 5 thesis in the Faculty of Built Environment;
* Elias Duek-Cohen Urban Design Award; and
* UrbanGrowth NSW City Transformation.
The Elias Duek-Cohen Urban Design Award was established to encourage undergraduate students in the Faculty of the Built Environment to undertake their final year thesis on a topic concerned with making towns and cities more beautiful and more workable.
"I'm honored to receive these prestigious awards and thrilled my work has been recognised by the Faculty of the Built Environment. The release of VR headsets and the 'Virtual City' is a new participation technique to use VR technology to visualise a digital model of the urban development," said Richard.
A town planner at Craig & Rhodes for two years, Richard said "I'm looking forward to helping shape the built environment and working on projects where I can achieve the best possible outcome for people living and working in Sydney."
Virtual Reality will become part of daily life for billions of people according to Facebook CEO Mark Zuckerberg who paid $2B to acquire the Oculus Rift VR headset in 2013.
Richards' thesis analysed how the VR headsets are the next progression of 3D visualisation as a method to communicate planning controls to the general public, by visualising built form and the public domain at the human scale.
"Richard is a key member of the Craig & Rhodes Town Planning team and the business is pleased to see that his vision and work to integrate technology with planning has been recognised with these prestigious awards," said Andrew Halmarick, Managing Director, Craig & Rhodes.
"Craig & Rhodes clients will benefit from Richard's work in VR Planning and we look forward to implementing this technology in conjunction with our existing 3D Laser Scanning capabilities to revolutionise the planning process and enhance the major urban development projects of the future," Mr Halmarick said.
About Craig & Rhodes
Craig & Rhodes is a multi-disciplined Surveying, Engineering, Planning and Project Management consultancy based in Epping, NSW. With over 90 year's experience Craig & Rhodes has a proven record in providing professional services to the development industry and the capability to deliver a range of projects for residential, commercial & industrial developments.
Craig & Rhodes has integrated their knowledge with modern technology and multi-disciplinary experience as surveyors, engineers and planners to become a leader in major commercial and residential land development projects including Allam Homes, Edmondson Park, Gordondale Estate, Thornton, North Penrith and The Ponds development in North West Sydney.
---
SIGN UP TO OUR EMAIL LIST